The Fall of the House of Fifa: The Multimillion-Dollar Corruption at the Heart of Global Soccer
When a leader is only dependent on a small number of easily bribable and interchangeable cronies, conditions are perfect for corruption and payoffs. Sepp Blatter played this nearly perfectly and was able to maintain plausible deniability for decades by relying on secret deals and oral agreements.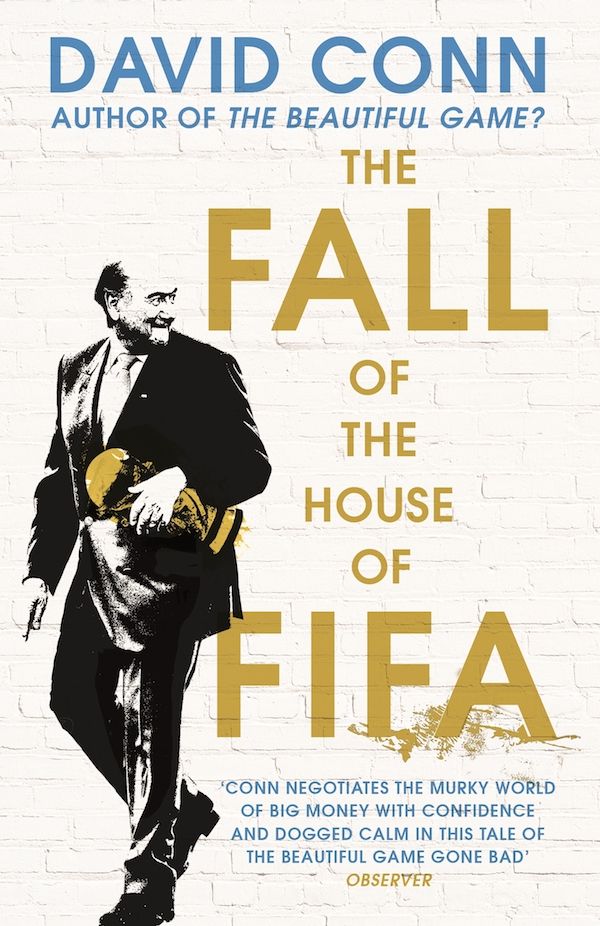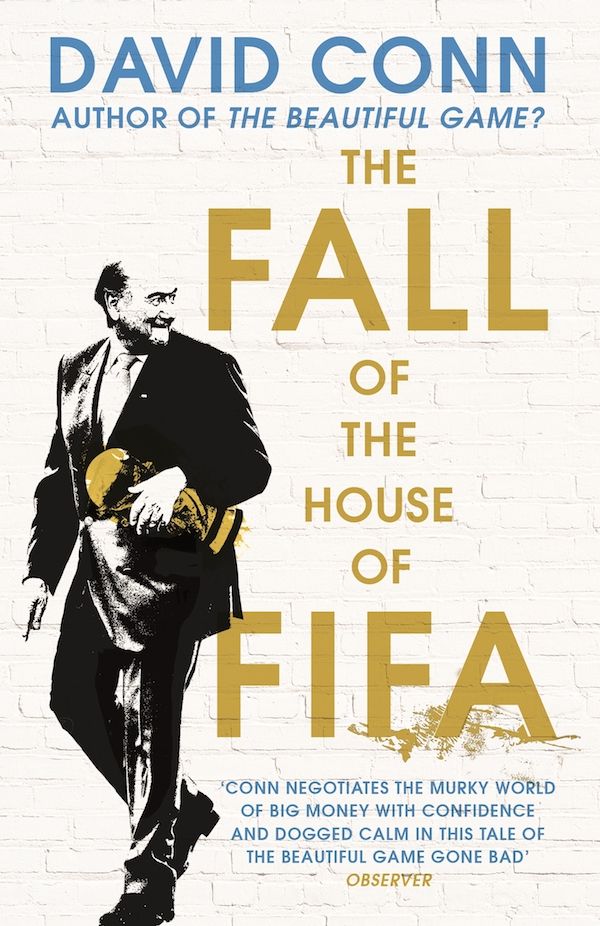 It's World Cup time, so what could be more appropriate for my 2018 "Year of Crime and Punishment" to read David Conn's "The Fall of the House of Fifa"? Unfortunately, this book gets so bogged down in the details that it's tough to understand the big-picture mechanics of how money was moving around within Fifa. The numerous typos and uninspired writing style also contribute to its 2-star rating. However, if you're willing to slog through hundreds of pages of details about one of the world's most profitable sports bureaucracies, you'll discover a pattern that has become familiar in my 2018 reading theme.
As John Oliver famously popularized in his "Last Week Tonight segment on FIFA", FIFA insider Sepp Blatter presided over a global patronage system that distributed the riches generated by the worldwide soccer phenomenon. And to be fair, the global soccer juggernaut was largely the creation of FIFA. But Conn traces how even from the mid 1900's, the millions (and eventually billions) of dollars flowing into FIFA from advertisers began to corrupt its institutional governance. By the late 1990's, FIFA's revenue boomed as lucrative TV deals transformed the FIFA World Cup into one of the world's premier entertainment events. With its opaque governing structure and Swiss headquarters (bribery isn't illegal in Switzerland - wild), FIFA was an almost irresistable magnet for corruption.
Conn tries to help us see that a big part of the issue was that each country in FIFA was entitled to an equal vote. Because the desperately poor countries of Africa and the Carribbean were so numerous, FIFA power players like Jack Warner and Chuck Blazer were able to consolidate powerful voting blocs from countries that were otherwise insignificant in the world of competitive soccer. By funneling FIFA patronage money to these national clubs (under the banner of "development grants"), a network of allies ensured their continued dominance in the FIFA elections.
Of course, this type of corruption comes as no surprise to readers of "The Dictator's Handbook." When a leader is only dependent on a small number of poor (easily bribable) and interchangeable cronies, conditions are perfect for corruption and payoffs. Sepp Blatter played this nearly perfectly and was able to maintain plausible deniability for decades by relying on secret deals and oral agreements. This eventually came back to bite him, but only after rising jealousies from the spurned (and inadequately paid off) European football clubs forced a thorough investigation of FIFA's finances.
As I was reading Conn's convoluted prose, I couldn't help but think of two other books that do a much better job of addressing these same mechanics, but in different contexts. "Treasure Islands" shows how hidden pools of money can eliminate accountability and pervert governance. And Caro's classic "The Power Broker" illustrates how through competence and ruthlessness, a single man can build up a pool of dark money and use it to preside over a vast and powerful network of corrupt officials.
My highlights below.
---
CHAPTER 1 - The People's Game
It was only as an adult, a journalist researching the roots of football to understand its hyper-commercially exploited modern incarnation, that I read into the game's history properly and discovered that this claim of British national pride is actually, remarkably, true. Football, its proportions, layout of the pitch and rules, which allow for its endlessly thrilling expression, were indeed first established and agreed at the historic meetings of the newly christened Football Association at the Freemason's Tavern in London's Lincoln's Inn, in 1863.
Contemplating the major and surprising influence we now know was brought to bear on the politics of Fifa and other sporting organisations by the boss of the sportswear firm Adidas, Horst Dassler, it is startling how dominant the brand is when you see the 1974 World Cup again.
CHAPTER 2 - Fifa's Smiley Face
In that position, he had worked intimately for twenty years with Jack Warner, a former college history lecturer in his native Trinidad whom Blazer had supported to become the Concacaf president in 1990. Warner had since, as the two of them planned, led a coalescing of power for the small Caribbean islands, uniting to cast their votes as a block of thirty-one among Concacaf's forty-one countries, which included much bigger nations, principally the US, Canada and Mexico. In the election of a president, all Fifa's 211 countries' FAs vote, so Warner could become a man of influence, wielding the block Concacaf and Caribbean numbers.
The president, Sepp Blatter, elected by a majority of the member FAs in 1998, 2002 and unopposed in 2006, made it twenty-four, sitting around the top table at Fifa headquarters, the so-called 'House of Fifa', in Zurich.
Blazer came crashing through this scene as if he, not the Al Nahyans, owned the place. He is a big man, with a very red face set into a bushy white beard and curly white hair. Some have said he is like Santa Claus, and so he was, a dystopic American version of Father Christmas. He was, it has unavoidably to be observed, grossly overweight, on a scale of obesity so beyond a normal sight that it took a moment to adjust the eyes to it. He was so sadly enormous that he could not walk except with great difficulty, and he was in a large mobility scooter, which he was riding like a giant dodgem car, hovering cheerfully around the marble floors of the Emirates Palace. He was quite brazenly unembarrassed about the spectacle he presented; he had assistants and Fifa staff always in attendance, and he was barking orders at them, like a cartoon bad boss in a caper movie.
There was just one member of the entourage who could not help but articulate the thoughts of the honest child seeing through the emperor's fine clothes, and he muttered, out of the corner of his mouth, that Blazer was an odd sight to be the public face of promoting the world's greatest sport.
The phrase 'local derby', for near-neighbours clenched in an intense rivalry, derives from the grapples of old between two parishes, All Saints and St Peter's, in the city of Derby.
Each school, however, had developed its own rules, so on 26 October 1863, twelve clubs met, at the Freemason's Tavern in Lincoln's Inn, London, to agree one common form of the game, and establish what they called the Football Association.
The FA established its cup competition, the world's first, in 1871, and it was won for its initial eleven years by upper-class clubs before Blackburn Olympic, from the hard Lancashire cotton town, beat Old Etonians in 1882, 2–1 at The Oval in London. Forever after that, clubs predominantly fielding and supported by working-class men overtook the amateur aristocrats.
After Fifa was formed in 1904 by seven European football associations – not the FA, by far the world's strongest and longest established, which spent two years condescending before joining in – the new world governing body also drew an innate distinction between its sport and purely commercial entertainment. At the 1906 congress in Bern, by which time the English FA had joined and sent a delegation, among seven key founding rules was one which stated that international matches had to be between teams representing national associations, that the associations had to agree to matches being played between clubs from different countries, and that 'No person should be allowed to arrange matches for personal profit.'
At that very first meeting in Manchester, the representatives understood that clubs based in the cities could attract bigger crowds and so make more money than the clubs in the smaller towns. They agreed that, in order to ensure genuine competition between them, clubs should share the attendance money, the only source of income they had then, otherwise the big clubs would make more and therefore pay high wages to the best players, and dominate. So, the fair distribution of money was embedded as a principle in professional football from its very beginning.
The big clubs' breakaway from this and the other essential bases of the sporting constitution came as the amounts of money available, principally from television, grew in the 1980s. In 1992, the First Division clubs broke away, to form the Premier League, so that they would not have to share the bonanza of a new payTV deal with the rest of football. A small group at the head of the FA somehow persuaded themselves that they would become pre-eminent in English football and deliver a blow to a Football League they had come to see as administrative rivals, by backing this big clubs' breakaway. The FA also allowed the clubs' shareholders to form holding companies to bypass the old rules limiting the cash they could make out of them, and as the money and exposure of the Premier League soared, the 'owners' began to make fortunes by selling the clubs.
In Qatar, Abu Dhabi's neighbours and entrenched religious and political rivals, such a strategy resulted in the bid, which always looked spectacularly overreaching, to host the 2022 World Cup. Their stunning success in gaining enough votes was the catalyst which many people, Sepp Blatter included, believe heralded Fifa's unravelling, because it appeared that its sole reason could only be money.
The truth was set out in the book American Huckster, written about Blazer by the New York Daily News journalists Mary Papenfuss and Teri Thompson, who broke the story in 2014 that Blazer, having been found to have committed tax evasion, fraud and money laundering on a gigantic scale at Concacaf, had in 2011 agreed to wear a wire for the FBI, to see if he could implicate some of his colleagues at Fifa.
The FBI had not yet decided that Fifa itself, the world governing body of football, might in fact be a RICO – a racketeering influenced criminal organisation – and begun to investigate.
CHAPTER 3 - 1904: 'A Pure Sport'
the origins of Fifa are heroically small scale. The organisation was formed at a meeting on 21 May 1904 at 229 rue St Honoré, Paris, in a back room of the offices of the Union des Sociétés Françaises de Sports Athlétiques, an amateur French sports association. Representatives of only seven countries' fledgling football associations were there, wanting to facilitate international matches between their teams: Holland, Switzerland, Denmark, Belgium, France, Sweden and Espir FC Madrid, representing Spain, with Germany wiring their intention to sign up.
Rimet talked of Fifa at the end of his tenure as 'a spiritual community to which we all adhere with one heart and one will', and of football as 'a channel for imparting the finest human qualities', listing discipline, moderation and solidarity among its virtues.
Guérin complained, in a famous phrase cited in all the histories, that dealing with the English was like 'slicing water with a knife'.
By 1906, the FA decided to become fully involved in the new Fifa organisation, and sent a delegation to the June conference in Bern, Switzerland, including Daniel Woolfall, the FA treasurer and Blackburn Rovers committee member. He was elected Fifa president at the meeting, a recognition of the English FA's size, history and know-how, and he served until 1918. Woolfall was the first of three English Fifa presidents out of just six in total during the seventy formative years of Fifa, before its culture irrevocably changed after the Brazilian João Havelange was elected president in 1974.
The strength and depth of English football compared to the nascent game developing in other European countries is illustrated by the fact that, to play international matches and give other countries a chance, the FA formed and fielded an amateur team. Still, the team was so strong that England's amateurs won the first two football tournaments played at the Olympic Games, in 1908 in London, beating Denmark 2–0, and Stockholm in 1912, again defeating Denmark, this time 4–2. Oliver has argued strongly that these and the three subsequent Olympic football tournaments were in effect the first World Cups, which explains the twenty-six-year gap between Fifa's formation and the first World Cup, played in Uruguay in 1930.
And he steered an acceptance of full professionalism, which meant football breaking with the Olympics and founding its own World Cup. Oliver argues that this pragmatism by a Fifa visionary spared football the oppressiveness and pettiness with which amateurism was piously enforced at the Olympics and in other sports for far too long, and partly accounts for the game's great growth and accelerated capturing of the world's imagination.
Fifa moved to Switzerland in 1932 after it was plunged into financial crisis by precipitous losses Hirschman had made on investments in the Great Depression. Initially, and for twenty-two years after that, Fifa ran world football's affairs and organised the World Cups from just two rooms in an office building on Zurich's main Bahnhofstrasse, which runs through the centre of the city from the grand old train station. To professionalise the operation after the Hirschman debacle, Fifa took on its first actual employee as secretary, the German former player Ivo Schricker, who administered the operation from those cramped rooms, with just one assistant, for twenty years.
In 2006, seventy-three years later, Fifa moved into its current headquarters, an impenetrable-looking black block of predominantly Brazilian granite, set high on a hill, in grounds with manicured football pitches, the flags of all its nations, and plants and foliage in the gardens from football's six global regions. With floors sunk underground, although predominantly for parking, it is perennially described as a bunker, and looks inescapably like a building an organisation would choose if it had plots to hatch, secrets to hide. To build this House of Fifa, from the fortunes it was making principally from selling TV and marketing rights to the modern World Cup, Blatter's organisation had spent 240m CHF ($235m).
Switzerland's welcome extended to a generous legal status for sporting associations, which are spared taxation on their profits as they are considered to be dedicated to the public good.
True to the British integration of sport into schools
Rous maintained that his view on South Africa was consistent with a principle he repeatedly restated, that sport itself should not indulge in politics.
He also took a position on Chile in 1973 which looks ludicrously blind to political reality: refusing to allow the Soviet Union to play their World Cup qualifier in a neutral country, because, they had complained, the national stadium in Santiago had been used to torture and kill left-wing targets after the brutal coup of General Augusto Pinochet that year.
His insistence that Fifa should not take a political stance was elsewhere robust and admirable: he stood up against China's demands that breakaway Taiwan should be banned from Fifa, on the same basis, that it was an internationally recognised independent country, and Fifa should not be used to fight a political battle.
Rous, when facing the rival candidacy of Havelange, declined to actively electioneer, issuing only a modest pamphlet saying he would stand on his record, which he believed was self-evident: thirteen years of achievements, development and admirable progress. Given the stories, then and since, that Havelange was dispensing cash and promises to win votes, Rous' final statement in what passed for his manifesto looks a little barbed: 'I can offer no special inducements to obtain support in my re-election, nor have I canvassed for votes except through this communication. I prefer to let the record speak for itself.'
David Yallop, in his book How They Stole the Game, is repulsed by Havelange and alleges, based on research, that he was corrupt in business and at Fifa.
Havelange did, without question, help himself to bribes from Swiss marketing company International Sport and Leisure (ISL) in the 1990s and almost certainly earlier than that, and was therefore embroiled in instituting a culture of corruption in this governing body of world football which had such admirable and idealistic founding principles.
Born Jean-Marie Faustin Godefroid de Havelange in Rio de Janeiro in 1916 to a wealthy Belgian father, Faustin, who made his money in arms dealing, João died in 2016, having reached the age of 100.
the 1954 World Cup in Switzerland, which was seen as unforgiveable. The tournament was won by West Germany, a historic, nation-building success dubbed 'the miracle of Bern' for the country recovering from the ashes of war and disgrace of the Nazi era. Adidas, started by and named after Adi Dassler, Horst's father, claimed some credit for the victory, having developed for the West German team a football shoe which was a revolution in lightness compared to the clumping football boots still worn by other teams.
Havelange was white, and rich, but he successfully presented himself as being from a racially mixed, less well-off and non-European country, and as sympathetic to the complaints and needs of the African FAs, positioning himself in opposition to the struggles they had had with Rous over South Africa.
Dassler, running a kit and boot company, worked to have presidents elected who would owe loyalty to him, and do deals for sponsorship with him, promoting the Adidas brand through their sports and teams.
'Dassler was talking to people, lobbying them to stick with the existing structure, helping Rous. And despite all that work and going round the globe, Havelange nearly didn't win, which he put down almost entirely to Horst Dassler, whom he saw as a powerful and influential man. It created a bond between the two individuals, and mutual respect.'
In a famous passage reflecting on his exit, Rous wrote: 'There was in my defeat something symbolic of changing attitudes and standards. In football the talk was all of money, and my own lack of personal concern with it may have seemed outdated and amateurish.'
CHAPTER 4 - 1974
Two men who were crucial then, and whose influence over Fifa's direction seeps back for forty years to that turning point in its history, were Horst Dassler, the indefatigable boss of Adidas, and Joseph Blatter, his name always shortened to Sepp, a kipper-tied PR and marketing operator who came to Fifa from the Swiss timing firm Longines.
The ultimate signing up of Coca-Cola to brand the Fifa development programme has become a well-rehearsed tale of Blatter's, a set-piece triumph in United Passions, the notoriously self-glorifying film his Fifa had made in 2015,
Nally, recalling the landmark deal, said that Coca-Cola gained the association of their name and product with the image and glamour of a pure sport, penetrating deeply into countries around the world. Besides the money itself from the sponsorship, Fifa also gained the expertise and clout of a powerful US corporation. 'They had bottlers, distribution networks and relationships with governments in these countries, which were very useful for Fifa when setting up the programmes,' Nally recalled.
The money sought was a total of $1.2m over three years of the programme.
Coca-Cola were buying incomparable brand marketing, and have remained a sponsor of Fifa ever since, as have Adidas, although the prices they have paid to soak their brand into football's have dramatically increased.
Nobody within the Fifa executive committee appears to have been troubled at this fateful sale of football's image and qualities to junk drink, which would lead to the largely unquestioned spectacle ever after of junk food cleansing its brands through sport.
Fifa cannot be accused of awarding the World Cup to a ruthless and murderous junta; Argentina was chosen as the host for the tournament ten years before the coup, in 1966, as Rous believed in giving countries plenty of time to prepare. But once the generals did take over and began kidnapping, murdering, torturing and disappearing tens of thousands of Argentinians deemed subversive, they viewed the great sporting event as sundry totalitarian regimes have through history: as an ideal vehicle for propaganda.
Germany's coach was Beckenbauer, looking older, upright and dignified in his jacket and tie, wearing glasses, his curly hair receded further back on his head, as he ran with his clenched fists raised to celebrate another ultimate triumph. He has the distinction of being the only person ever to captain as a player, then manage, his country to victory in a World Cup final, and the second man, after Brazil's Mário Zagallo, to win the tournament as both a player and a manager.
There was to be a sudden multiplication of income for Fifa, but this was not a result of João Havelange's business brilliance, rather a consequence of the TV rights hyper-inflation which Fifa reaped principally after the France World Cup in 1998.
The Europeans supporting Johansson's Scandinavian vision for running Fifa were looking for a change of culture and cleaning of the stables after Havelange, and Blatter was seen as his long-term, eager lieutenant, the continuity candidate.
CHAPTER 5 - 1998: President Blatter
Platini was at his side then, charming FAs on their travels and taking away from Johansson French and other European support, and when Blatter won he would give Platini a job as his international adviser. The terms they agreed, how much Platini would be paid by Fifa, and how they documented it, would become a timebomb quietly ticking in the filing cabinets of Fifa House, finally blowing both men up and out of football, seventeen years later.
Concacaf, of which the president was Jack Warner with Chuck Blazer long installed as his secretary general operating out of New York, had grown through the 1980s and 1990s, with the addition of some tiny islands, like Turks and Caicos, population just 33,000; Anguilla, with 15,000 people, and Montserrat, population 4,900, which joined Fifa in 1996 and had the same voting power as every other country. Warner always tried to lever maximum influence at Fifa by encouraging the Concacaf countries to vote as a block, and in particular his Caribbean Football Union grouping of islands, so wielding an influence way beyond their proportionate status.
The income recorded for the four-year cycle to 2002 was $1.5bn, a fivefold increase, including TV rights sales alone of almost $1bn.
Blatter's initiative, later described by Fifa itself as his 'visionary proposal', was more direct, and appealing: simply to promise very big money to every Fifa member country's football association, directly. A 'financial assistance programme' would eventually provide $250,000 a year to each of them for running costs, including paying salaries to staff. In addition, there was what became the 'GOAL' programme, in which Platini was involved with Blatter from its conception, making $400,000 available to each association to build new facilities, including a headquarters. This was an offer to share Fifa's great mountain of dollars, amassed in Zurich from the proceeds of selling the rights every four years to the greatest televised sports show on earth, so substantially that it could transform the threadbare fortunes of member FAs around the world – and the lives of the people who ran them. The presidents of the associations, promised such transformational cash, were voters in the election.
He beat Johansson in the vote with the support of 111 countries to 80. The victory was then and has always afterwards been subject to accusations of bribery and vote-buying, again focused on African delegates, alleged to have received money the previous night in the Meridien Hotel, to switch their vote from Johansson to Blatter.
In 2002, before his next election battle, Blatter obtained a court injunction to prevent Farah Addo, president of the FA in civil war-torn Somalia, repeating his allegations that votes were bought by Blatter's side in the election. Addo, who died on 19 November 2008, had told the journalist Andrew Jennings for his book FOUL! that he had been offered money by a middleman from the Gulf to vote for Blatter.
'Whilst financial inducements may or may not have impacted upon the election, it is clear that Blatter and Havelange demonstrated considerable political astuteness throughout their campaign. Of particular significance was their skill in reading and ability to manipulate internal Confederation of African Football politics in order to convince at least half of the African voters that a policy of continuity represented a better option for safeguarding their interests within world football.'
The financial assistance programme, already approved under Havelange, began immediately in 1998, and between then and 2014 when totals were published, Fifa says it distributed $778m to the 200-plus national FAs, $331m to confederations: $1.1bn altogether. The GOAL programme was started, fulfilling Blatter's election promise, in 1999, and by 2014, $284m had been spent on 668 projects around the world. Most, 191, were to build new FA headquarters and facilities in Africa; 158 were initiated in Asia. With other programmes, featuring dedicated support for FAs to improve their administration, education, women's football, and $120 million for special projects, mostly in Africa, including the installation of forty-five artificial turf pitches, Fifa stated that from 1999 to 2014 it had distributed more than $2bn to associations and confederations.
To critics of this whole machinery constructed at Fifa by Blatter, pouring money into the FAs which had a presidential vote, his perceived political devilry at surviving and repeatedly remaining in power on a majority of their votes, the GOAL and financial assistance programmes look like giant slush funds. There is also a suspicion, even an assumption, that the programmes are rife with corruption, with football officials in the recipient countries very often pocketing the dollars rather than investing them for development.
In Afghanistan, over the course of a decade from 2003, despite the war-torn conditions in the country and continuing presence of the Taliban, Fifa says it has invested $1.5m in two standard GOAL projects in Kabul: a grass pitch at the Afghan football federation complex, and the building of the AFF's 'house of football'. The Afghan Premier League launched in 2011–12 with eight teams, all matches being played in Kabul for security reasons, almost 20,000 footballers were registered in the country, the national team has improved strongly in the Fifa rankings and there has, remarkably, even been progress in developing women's football, with twenty-three clubs open to women.
'Some of the money might have disappeared into people's pockets,' Maradas says, believing there was too little accountability for it, particularly at first, 'but the bulk of the money is there in facilities, overall it helped Africa a lot; it is like night and day compared to where they were in the 1980s. You go to national associations now, they have headquarters, they are well organised – it is amazing.'
Domenico Scala, the Swiss corporate executive who was recruited by Fifa in 2014 to head the governance reforms, and became chairman of the audit and compliance committee, told me that when he started people pointed to the development programmes as a hotbed for corruption and the basis for a stinking system. He said that he investigated, and they conducted audits, and did not find it to be the case. 'In fact there was not as much corruption as people thought,' Scala said. 'There is clearly a concrete record of development with the money, the evidence is there on the ground. But it was a system of patronage, by which the president distributed money to the electorate. Blatter was a master of playing the electorate, and the Fifa system.'
Gianni Infantino, the former Uefa secretary general under Platini's presidency, who won the Fifa presidential election in May 2016 held after Blatter and Platini were banned, stood on a promise to quadruple the money going to the FAs forming his electorate.
David Will, the Scottish representative of the British associations on the executive committee, alleged that Fifa's loss from the ISL collapse had been £300m rather than the £37m claimed by Blatter, and that Fifa was effectively insolvent.
Omdal and Johansson told me then that they believed the prosecutor had missed an opportunity to clean up Fifa in 2002, and that action at that time could have avoided more years of mismanagement. 'I feel we, Fifa and football were let down by the Swiss authorities,' Johansson said. 'They had evidence, we filed a complaint in court asking for an investigation, we had Swiss lawyers helping us to present the case, but we lost and Blatter somehow kept everything under control.'
In the teeth of that battle in 2002, with the Zen-Ruffinen file at the prosecutor's office and not yet dismissed by Hubmann, and eleven of his executive committee united so fiercely and accusingly against him personally, Blatter nevertheless comprehensively won a majority of the vote, 139 to 56, to continue as president. Clearly, whatever he had been doing, it was working for the vast majority of the world's national football associations.
CHAPTER 6 - 2010: 'And the Host of the 2022 World Cup Will Be… Qatar!' (1)
During his initial three-year stint at Fifa, Valcke had streamlined the main sponsorships down to six: Adidas and Coca-Cola, as ever; Emirates, Hyundai, Sony and Visa, for 2007–14. Those corporations paid more than $1bn to have their names broadcast globally, wrapped around the World Cup.
The World Cup was held in Germany in 2006 following a bid led by Franz Beckenbauer which is, at the time of writing, now the subject of criminal investigations in Germany and Switzerland. The tournament itself was at the time hailed as a wonderful success and experience.
The young German squad, managed by US expatriate and former national team centre-forward Jürgen Klinsmann, presented an attractive vision of modern Germany, playing smart, entertaining, passing football.
Fifa, basking in the Sommermärchen, boomed again, recovered from the collapse of ISL, making a record $3.3bn over the four-year financial cycle up to and including the 2006 World Cup. The TV rights for the World Cup alone accounted for half that, $1.6bn; the sponsorships, with sixteen official 'partners', reaped $700m. Almost a quarter, 23 per cent of this income, was spent in development, including $100m on the GOAL programme and $300m on the financial assistance programme, cash paid directly to the national FAs.
Fifa made a booming $3.9bn in its 2007–10 cycle, including $2.4bn from the TV rights to the World Cup in South Africa, and cleared $1bn for the marketing rights from Valcke's streamlined six blue-chip partners. Of this, $794m, 22 per cent of the total income in Zurich, went to the member FAs in development cash.
The Adamu and Temarii stings have passed into memory as the two men soliciting money for themselves personally, which was not proved. In fact, both were talking in terms of cash for development. Often overlooked in the perception of Fifa, and these kinds of requests, as riddled with corruption, are the huge disparities in football, still, between the rich world and developing countries.
Some delegates from African FAs, Oceania and elsewhere have come habitually, and to see it as their duty, to seek development opportunities from the hugely wealthy football regions which can afford to do it.
Qatar's official bid, led by Hassan Al Thawadi, a young lawyer educated in the US and England – first at college in Scunthorpe, of all places, then in Sheffield – had a budget of £100m.
Of Russia, even now, little detail is known, except that President Vladimir Putin wanted the 2018 tournament, and that the oligarch Roman Abramovich, Chelsea's owner, was actively involved. Abramovich was one of the handful of men who became overnight billionaires in notorious sweetheart auctions of state industries in the 1990s after the end of communist ownership, in return for support given to the then president, Boris Yeltsin. Vitaly Mutko, the Russian sports minister throughout the time his department was implicated by the World Anti-Doping Agency in an alleged Russian state doping programme of athletes, uncovered just before the 2016 Olympics, which he denied, was leading the bid, and was a member of the Fifa executive committee itself. The 2014 winter Olympics in Sochi, which Putin had also wanted as a proclamation of Russia's global presence and power, were hosted on a vast, purpose-built site, and the total cost, in a country of wincing inequalities, with a majority of the population still sunk in poverty, was a truly astonishing $51bn.
After the vote, Qatar Sports Investments, a sovereign wealth fund, did buy Paris Saint-Germain, the club Sarkozy supports. QSI, and the Qatar Tourism Authority as a €200m a year sponsor, have since poured in fortunes to fuel star player purchases, PSG's capture of the Ligue 1 championship and routine participation in the European Champions League.
Qatari money for France did not stop at PSG, though; three weeks after buying Sarkozy's club, it furnished the whole of France's Ligue 1 with new riches. The broadcaster beIN Sports, part of Qatar-owned Al Jazeera, did a joint deal for the league's TV rights, paying a hugely increased €607m a year from 2012 to 2016. That was renewed in 2014, increasing to €726m a season from 2016 to 2020. The Qatari chairman both of PSG and QSI, Nasser al-Khelaifi, is also the chairman and chief executive of beIN Sports. Most significantly for Sarkozy, the Qataris also completed major trade deals with France. These included Qatar Airways ordering fifty A320 neo-family planes made by Airbus at its base in Toulouse. The list price of one Airbus in 2010 was put by one industry journal at $375m. At that price, the total income from that one trade deal with Qatar to the French economy was $18.75bn.
Blatter absolutely believes that Platini was influenced by political pressure, and says Platini told him so. He, the undisputed expert of Fifa and executive committee politics, is also convinced that Platini's vote, taking four European votes with him, was the crucial deciding factor giving Qatar its fateful majority.
Just two days before the vote, true rottenness in the heart of Fifa was alleged with more conviction than ever before, in a programme researched and presented for the BBC's Panorama by Andrew Jennings.
Blatter himself is bitterly convinced that the US authorities only began their investigations, and set out to bring Fifa down, because their bid lost out in the dire voting process of that winter's day in Zurich.
The real trouble for Fifa, and Blatter, sprang from what happened next: the challenge to Blatter's presidency by Mohamed bin Hammam, in the election for the president due to be held in June 2011, and piles of dollar bills being handed out, on Jack Warner's orders, in a hotel room in Trinidad.
CHAPTER 7 - 'Crisis? What is a Crisis?'
On 10 May 2011, the British parliamentary committee for culture, media and sport held an inquiry into the World Cup vote, which featured some more explosive claims. British law enables anybody to say anything in parliament, free from the libel law protecting people from suffering damaging claims against them, which cannot be proven.
The Qatar bid again reacted furiously, staggered that in a democracy parliament could be used effectively as a publishing vehicle for allegations which could not be proved sufficiently to be made outside the Palace of Westminster.
When the president and secretary general of Fifa arrived to face the media, Valcke opened with a clarification of his leaked Qatar allegation, to get it out of the way. 'What I wanted to say,' he told us, 'is that the winning bid used their financial strength to lobby for support. I have at no time made, or was intending to make, any reference to any purchase of votes or similar unethical behaviour.' And no more, really, has ever been said about the casual assertion of the Fifa secretary general about the bidding process, that Qatar 'bought the World Cup'.
It is astonishing to think that a classic English FA administrator and ex-schoolmaster had been the president of this organisation for thirteen years until as recently as 1974. Now, the English FA was nowhere, and Fifa seemed like a totalitarian world of patronage and dependence, in which journalists were denounced as liars for writing the truth about a corruption scandal.
CHAPTER 8 - Straight Citizens
Bin Hammam was both exceptionally wealthy, through his Kemco construction company which had worked at the heart of Qatar's building boom after oil and gas were discovered, and used to paying out money to smooth his Fifa journey.
By conducting business like this, outside of their closed doors, involving 'a straight citizen' like Anton Sealey who would need a convincing answer that all was above board, Warner was becoming a liability. If Blazer had no 'answer he could give' to a straight citizen like Anton Sealey, but did nothing about reporting the incident either, perhaps the straight citizens would start to wonder about him. And so, Blazer had to report Warner. He was not being more pious than thou; he was doing necessary business.
But this was, after all, basic and very public corruption, in the US's backyard, using US currency, which some of the delegates sought clearance to take through US airports – there is a limit of $10,000 by law.
'In view of the recent allegations that have surrounded Mr Hammam [sic],' PWC wrote, 'it is our view that there is significant risk that: The AFC may have been used as a vehicle to launder funds and that the funds have been credited to the former president for an improper purpose (Money Laundering risk), The AFC may have been used as a vehicle to launder the receipt and payment of bribes.'
CHAPTER 9 - The Dr João Havelange Centre of Excellence
Austin nevertheless launched an investigation of his own, an audit of the Concacaf finances, but when he turned up to the Concacaf offices in Trump Tower, 725 Fifth Avenue, New York, Blazer's den for years, Blazer did not let him in.
Most extraordinarily, it was claimed that the Concacaf centre of excellence in Trinidad, built with millions of dollars from Fifa itself and named after the former Fifa president João Havelange, was not in fact owned by the football confederation at all, but by Warner himself.
Wielding the influence eventually of thirty-one Caribbean votes in the congress and three Concacaf votes out of twenty-four in the executive committee, often a decisive wedge, Warner passed up no opportunity to extract benefits in return.
When it was finally completed, the money provided by Fifa for the Dr João Havelange Centre of Excellence, built on Jack Warner's island of Trinidad, population one million, was at least $25.95m. It consists of a football stadium, adjoining football pitches, conference and banquet halls, offices, a hotel and a swimming-pool complex.
Built with so much Fifa money, including that $6m gift, and stuffed with so many more millions from Concacaf in funds which would otherwise have been available for football projects and development throughout its geographical region, it was alleged that in fact the Dr João Havelange Centre of Excellence was owned by Warner himself. The integrity committee looked into that, and, in a nutshell, they found that it was true.
Their conclusion on Warner and the Dr João Havelange Centre of Excellence in Trinidad, was that he owned it, secured millions of dollars from Fifa and Concacaf to build it and keep running it, and that he misled both Concacaf and Fifa into believing it was owned by Concacaf. 'In connection with the centre of excellence and Concacaf operations in Trinidad and Tobago [Warner's office],' the report stated uncompromisingly: 'Warner committed fraud against Concacaf and Fifa.'
While Concacaf was paying some of the eyewatering rent on the Trump Tower apartments as business expenses, the confederation also paid the rent, from 1996 until Blazer's resignation in 2011, on three separate apartments he, his girlfriend or his cats lived in. The rent for the forty-ninth-floor apartment, the committee found, was $18,000 a month. In total the committee found Blazer improperly spent $837,000 in rent.
The committee did not have the authority to investigate whether Blazer had personally paid his taxes – we know now that he had not, and this had led to the tap on his shoulder from the authorities in 2011 and the end of all his fun and misappropriation. However, the committee found that he did not file US tax returns or pay tax on behalf of Concacaf between 2006 and 2010, and for one of the Concacaf companies, CMTV, from 2004 to 2010, which, they said, was 'wilful'. 'Blazer went out of his way to avoid engaging the Internal Revenue Service at any level, at great expense to Concacaf,' the report said.
CHAPTER 10 - Bribery in Switzerland is not a Crime
After years of resistance by Fifa under Blatter's presidency, a court document was finally to be published, which was reputation-shredding. It disclosed that Havelange had indeed taken bribes from the marketing company ISL throughout the 1990s, in return for him selling to ISL Fifa's TV and marketing rights for World Cups.
By the late 1990s, when the money for broadcasting dwarfed the sums which had obsessed Dassler, ISL had formed a fund in Liechtenstein, a secretive, offshore banking haven in the heart of Europe, and stuffed it with 36m CHF for the payment of bribes. Havelange asigned to ISL all of Fifa's marketing rights – the right to sell its name and the irresistible appeal of football, to the familiar roster of blue-chip and junk food sponsors – in 1997 for 200m CHF. Then he signed over the 2002 and 2006 World Cup rights, ISL paying Fifa $1.4bn in total. This latter contract was signed 'on behalf of Fifa by João Havelange' on 26 May 1998, just days before the Brazilian stepped down as the president able to sign contracts for Fifa, and Blatter took over.
The multi-million-dollar bribes paid to Havelange and Teixeira in return for granting these contracts came to light not long after, when ISL went bust in 2001. Yet here came the next layer of shame: Fifa, with Blatter as president by then, Havelange honorary president, and Teixeira, Leoz and Hayatou all still on the executive committee, covered up the bribery, sealed it in a settlement.
explained that football's world governing body paid this settlement, on behalf of people who had effectively stolen from it, because it did not want to be subject to bad publicity about the bribery having happened. 'That's why Fifa intercedes to help bring about settlements where foreign football functionaries have received commission.' This is as bald an admission as can be that Fifa accepted that 'foreign football functionaries' were regularly bribed, but that instead of taking the necessary action against them, clean up the game and stop it happening again, Fifa 'intercedes' to tolerate it and hush it up.
The lawyer argued that if Fifa had decided to try and reclaim the money from the people who had pocketed the bribes, it would 'barely have been possible' to recover any of it. This, he argued, was because: 'A claim made by Fifa in South America and Africa would hardly have been enforceable because bribery payments belong to the usual salary of the majority of the population.'
Here was Fifa, in a court of law in its native Switzerland, stating, plain as day, that it believed bribery was part of the routine facts of life in South America and Africa.
Blatter, though, did not accept he had done anything wrong, publicly pointing out, as Fifa always has, the remarkable fact that paying and taking bribes were not in themselves criminal offences in Swiss law.
This public confirmation that Horst Dassler's ISL had for twenty years corrupted Fifa and its monumental former president, which was covered up by his protégé and successor, came to be considered by the new ethics committee structure agreed as part of the reforms.
Blatter, though, does not do whistleblowing, as he would tell me in my interview with him for this book.
But Eckert then explained why he was not recommending any action be taken about this: 'At the time of… the settlement [in February 2004], there were no ethics rules.' So neither Blatter nor anybody else could be held accountable within Fifa for the settlement, which meant Fifa allowed Havelange, Teixeira and Leoz to keep the money they took in bribes, because there had been no explicit, written 'ethics rules' at the time.
CHAPTER 11 - The Dirty Linen
Timed to coincide with and explain these arrests, the US Department of Justice published its stunning allegations: fraud, $200m bribes taken over twenty-four years, racketeering, money laundering and other serious criminal charges against fourteen defendants, including the seven who had been whisked away from the Baur au Lac.
In New York, at a press conference live-streamed around the world hours after the arrests, the attorney general, Loretta Lynch, who was in charge of the prosecutions, James B. Comey, director of the FBI, and Richard Weber, chief officer of the Internal Revenue Service, competed with each other to produce the phrase most damning of Fifa.
Leoz told Hawilla that he would only sign the contract if Hawilla agreed to pay him a bribe.' So there it was, the allegation that the president of the South American football confederation who lasted twenty-seven years, for fifteen of them one of the elite few in the Fifa executive committee, for whom the English FA had considered an honour when they wanted his vote for the 2018 World Cup, did not think it 'fair' for him not to take a bribe on a TV contract.
CHAPTER 12 - 'Tell Me What You Did'
It was ten o'clock in a deserted courtroom on the winter morning of 25 November 2013. There, Charles Gordon Blazer formally pleaded guilty to ten criminal charges. He had not filed a tax return at all for the years 2005 to 2010, when he had been piling the money up from Concacaf at his base in Trump Tower. This swindle was easily checked by the US agencies after Warner's heedlessly public accusations about Blazer's earnings following the Trinidad fallout. It was the big break which led the tax authorities to tap Blazer confidently on the shoulder as he trundled along East 56th Street in November 2011, and tell him it was all over.
Dearie proceeded to tell Blazer that the charges identified Fifa as a RICO enterprise, an acronym, as he explained, for a 'Racketeering Influenced Corrupt Organisation'.
He also admitted to having accepted bribes 'in conjunction with the selection of South Africa as the host country of the 2010 World Cup'. That was all count one. Then he ran through the wire transfers and cheques, transmitted between the US and the Caribbean, which amounted to money laundering. It was important for the US authorities to prove the crimes took place under their jurisdiction, hence the emphasis of the US geographically as a place where the money was received or passed through.
Finally, he admitted to a financial crime carrying a maximum ten years in prison: having bank accounts in a foreign country with more than $10,000 in, and not disclosing them for tax.
CHAPTER 13 - Mr President Integrity
He said that he was told early in his Torneos career by a founding owner of the company that they paid bribes and kickbacks to Conmebol chiefs, to secure the rights to South American tournaments.
CHAPTER 14 - The World Cup of Fraud
But there was that one particular allegation lurking in the centre of the indictment which did strike at the heart of Fifa, and it was the most monstrous and unpalatable of all. It was the jaw-dropping story, which had come from Blazer's own admissions, that the South African government, and its FA's 2010 World Cup bid committee, had paid the $10m bribe to Jack Warner to buy his, Blazer's and another Fifa executive committee member's vote. The indictment said that this payment was to be paid to the Caribbean Football Union for apparent legacy inititatives, to 'support the African diaspora'.
If, though, the 'African diaspora' had been conjured as a disguise for money which was just a bribe, to be pocketed by three men personally for their votes, this was cynicism beyond conscience.
CHAPTER 15 - Le roi se Meurt
On 25 September 2015, attorney general, Michael Lauber, made a brief, lethal announcement: that he was investigating a 2m CHF payment from Fifa, made on Blatter's instruction, to Platini, in February 2011. That was just three months before the vote in which Blatter had been standing again to be the Fifa president against Mohamed bin Hammam, an election in which Platini supported Blatter and encouraged Uefa's fifty-three European FAs to do the same.
He talked about the investors arriving to buy English Premier League clubs, like the Glazer family, from the US, who bought Manchester United in 2005 and leveraged the club with their £525m bank debts, and said he was 'afraid' of the effect it would have on the game.
But in this very self-contained issue, a 2m CHF payment, as with other scandals and criticisms of his period in charge, Blatter had not been accused of taking money. He was alleged to have improperly paid money to somebody else, to aid and serve his own advancement. It was a major test for the ethics committee, and the impression of its independence, which Garcia had furiously questioned. Borbély's investigators went to work on this issue which, by definition, had very little documentation to look into. That was fatal to them. The ethics committee was not persuaded by either man's account of an oral agreement. Borbély sent his report to Eckert, who delivered his decision on 21 December 2015, just in time for Blatter and Platini to have a crestfallen Christmas. They were both banned from all football activities for eight years, an unimaginable fall.
Within days of talking in such terms about his struggles and fear of disappointing his dead father, Blatter collapsed and was taken to hospital. He spent several days recuperating in Zurich, then went to rest back in the haven of his home in the Valais. His long-term PR adviser, Klaus Stoehlker, told the media that Blatter, under all the stress and pressure, had suffered 'a small emotional breakdown'.
To the media, Blatter raged against the unfairness of it all, disbelief that the ethics committee had not believed his and Platini's identical stories about their oral agreement. He said he was being used as a 'punchbag', and that it was still rooted in the USA's failure to be given the hosting of the 2022 World Cup.
Platini, after his defeat, barely spoke in public again, although he was given a dispensation to say farewell at the Uefa congress. He watched as his former secretary general at Uefa, Gianni Infantino, seized the chance to leap into his shoes, and went for the presidency of Fifa himself, winning the vote in February 2016. Platini never accepted he had done anything unethical, and took his fall hard.
CHAPTER 16 - 'The Money of Fifa is Your Money!'
Nicholas McGeehan, the Gulf researcher for the campaign group Human Rights Watch, was scathing of Salman's candidacy: 'Since the peaceful anti-government protests of 2011, which the authorities responded to with brutal and lethal force, the al-Khalifa family have overseen a campaign of torture and mass incarceration that has decimated Bahrain's pro-democracy movement. If a member of Bahrain's royal family is the cleanest pair of hands that Fifa can find, then the organisation would appear to have the shallowest and least ethical pool of talent in world sport.'
Particularly attractive to the delegates from other continents gathered at the Hallenstadion in Zurich, many of which still struggle for the basics, Infantino also promised $1m a year for travel costs.
But he also sympathised to some extent with Blatter's view that the major corruption, as alleged in the US indictment, was endemic not at Fifa in Zurich, but in the confederations. 'There are certainly questions to answer at Fifa itself,' Scala told me, 'but I did not see evidence of systemic corruption. It was systemic in some confederations, and member associations, over which Fifa has no direct control; in fact via the executive committee, the confederations control Fifa.'
Pieth's and Scala's committees also proposed as a basic principle that Fifa should end the secrecy about what Blatter and the other top executives earned, which had long been a focus for complaints, because major corporations publish them as a measure of transparency and accountability.
Days later, Fifa – equally suddenly – announced the results of a Quinn Emanuel investigation into years of earnings for Blatter, Valcke and Kattner. They were very fat, and included huge bonuses for successful organising of the World Cup. Fifa gave a headline figure of around $80m between the three of them over the previous five years.
The Fifa announcement alleged it was a 'coordinated effort' by them to 'enrich themselves', arguing that effectively they were authorising each other's contracts, and there were multiple amendments when contracts were extended or bonuses paid.
CHAPTER 17 - Say it Ain't So, Franz
Here was Beckenbauer, signing a brief and pathetic deal to bestow various lucrative benefits on Jack Warner, who was wielding the three Concacaf votes. Beckenbauer signed it on behalf of the DFB itself, with Warner signing as the Concacaf president.
CHAPTER 18 - Tainted History
Nally believes Havelange was corrupted from the start by Dassler, a manipulator of the 'dark arts'. And that this corruption of Fifa, from early in the Havelange era, set the template for the system of bribes paid by marketing-rights companies more widely, including the endemic corruption in the Americas.
'Writing payments into agreements became an integral part of his strategy,' Nally said. 'If he is the paymaster, it becomes less likely that the individuals would do things out of his control. Kickbacks were created to keep power, rather than have people paid salaries. Once that became the culture, it was very difficult to change it.'
Although there is outrage at the scale of the wage packages paid to some executives in football, including Blatter once his was published by Fifa, you can argue that the lack of payment actually made people more susceptible to scandal, because everybody needs to earn a living. It was surely not sustainable for Franz Beckenbauer, handsomely rewarded throughout his life, to spend a great deal of his time working on Germany's hosting of the 2006 World Cup, for free. But he had said he would, true to the enduring pure expectations of national sporting figures; hence the outrage in Germany when it turned out he was well paid after all.
CHAPTER 19 - 'And the Host of the 2022 World Cup Will Be… Qatar!' (2)
A World Cup in Qatar would be played at a planned twelve stadiums, building nine and remodelling three, essentially in a single city, Doha, capital of a previously fairly obscure emirate with a native population around 278,000, in desert summer conditions of oppressive humidity and temperatures.
According to the CIA's World Factbook, by 2007 Qatar had the world's highest income per head of population. In 2015, this figure was put at $132,100, when in total the tiny country, luxuriating in natural gas and some oil reserves, had $320bn GDP. Qatar was estimated to have $49bn directly invested overseas by the end of December 2015.
US masterplanners AECOM, Danish engineers Ramboll and British architects Pattern were announced in April 2015 as the contractors to build the 40,000-seat Al Rayyan Stadium.
CHAPTER 20 - The Boss
So far, through a ferocious and complete investigation of all Fifa's books, he was not accused, as he had maintained he would not be, of taking any money corruptly, while all around him football's chiefs were helping themselves to it. He was accused more persuasively of having known it was going on but done nothing to address it for many years, of keeping the crooks on the executive committee happy, and the cash flowing to the national FAs, to maintain his prime purpose: his own position and longevity as the head of Fifa.
Throughout the conversation, Blatter maintained that he did not know the people around that executive committee table, whose support he nurtured for so many years, were corrupt.