Predictable Revenue: Turn Your Business Into A Sales Machine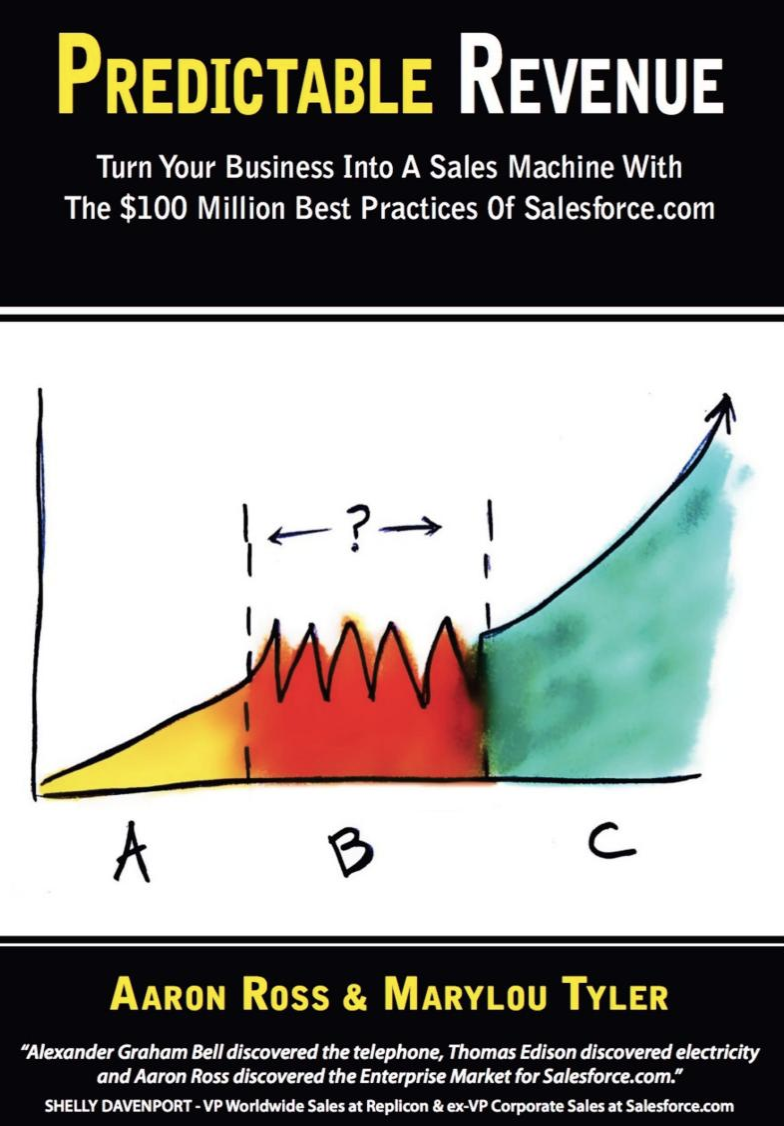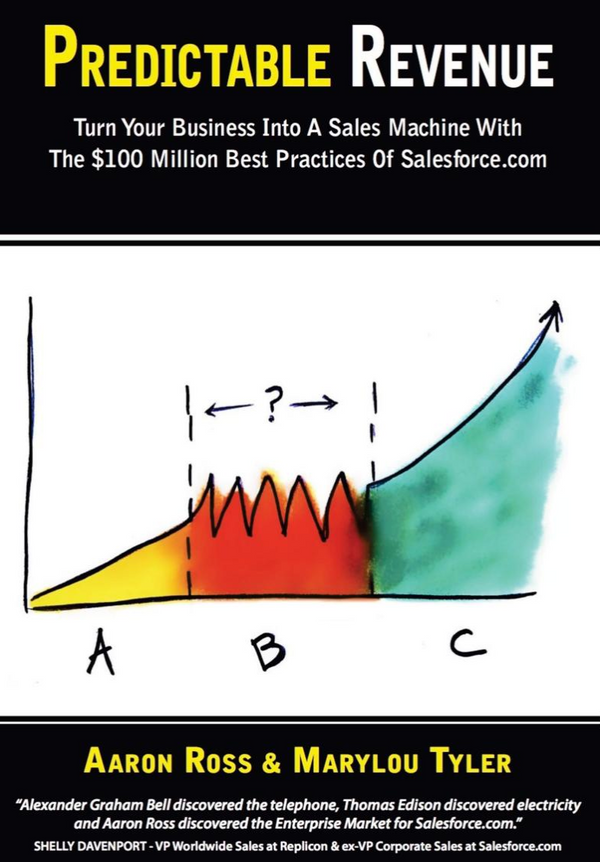 I've been thinking a lot about how we build out our sales team at SilviaTerra. I asked a friend whose company is a few years ahead of ours if he had any relevant book recs and he immediately suggested Aaron Ross's "Predictable Revenue", calling it "The Bible" of sales. I generally don't give business books 5 stars, but this book was a revelation. As I write this review, I'm looking at these highlights and saying "well, that's sort of obvious now that I'm thinking about it that way..." but that's precisely why this is such a great book. I hadn't been thinking like this at all before I read it and now I can't understand how I could have possibly thought anything else.
The core ideas here are:
Your sales team should be specialized into:

Inbound Lead Qualification
Outbound Prospecting
Account Executives
Account Management/Customer Success

Sales should proceed along the following three steps:

Step 1: (15 Minutes) First Contact: "Is This A Waste Of Time?"
Step 2: (One Hour) Qualification / Discovery Call: "Is There A Fit?"
Step 3: (Two Hours) Group Working Session: "Should We Work Together?"
Ross includes a bunch of tactical tips as well as thoughts on how to incentivize and manage a sales team. His book is a blueprint for how to build out a sales organization and I don't know why I haven't heard of this book until now!
The highly visual, 15 page "cheat sheet" version of this book can be found on Ross's website.
My highlights below.
---
Foreword
An important part of enjoying work in a company, whether you're an executive or an employee, comes from creating predictable income and sales, and freeing yourself and your team from the day-to-day slog of constantly wondering where each new customer will come from.
1 - Where the $100 Million Came From
Building a Sales Machine that creates ongoing, predictable revenue takes:
Predictable Lead Generation, the most important thing for creating predictable revenue.
A Sales Development Team that bridges the chasm between marketing and sales.
Consistent Sales Systems, because without consistency you have no predictability.
the lowest hanging fruit, is made by creating an outbound sales development team that focuses 100% on prospecting (that means no closing deals and no working inbound leads!)
Usually the cause of the "hot coals" is a shift from organic growth "A" (based on getting customers through founders relationships and hustling or organic internet marketing) to proactive growth "C", which is based on investing in programs that generate predictable growth.
The problem they face is that the old bedrock sales principles that worked before the Internet do not work anymore. "I need to double revenue growth, and I need to double my sales force to drive it, or make my current team work twice as hard." Wrong. In high-productivity sales organizations, salespeople do not cause customer acquisition growth, they fulfill it.
In fact, if you don't have any repeatable lead generation programs yet, you're already behind in getting ready for your goals in the coming 6-12 months.
What works to generate flows of new leads:
Trial-and-error in lead generation (requires patience, experimentation, money).
"Marketing through teaching" via regular webinars, white papers, email newsletters and live events, to establish yourself as the trusted expert in your space (takes lots of time to build predictable momentum).
Patience in building great word-of-mouth (the highest value lead generation source, but hardest to influence).
Cold Calling 2.0: By far the most predictable and controllable source of creating new pipeline, but it takes focus and expertise to do it well. Luckily, you are holding the guide to the process in your hands right now.
Building an excited partner ecosystem (very high value, very long time-to-results).
PR: It's great when, once in awhile, it generates actual results!
Do your executive team and board know how much new (qualified) pipeline the company needs to generate per month? (This is the #2 most important metric to track, right after closed business.)
Instead, the team had a single mission: to generate (but not by cold calling; see Chapter 2) new qualified sales opportunities from cold companies (ones at which we had no activity or interest) and passing these qualified opportunities to quota-carrying salespeople to close.
Your sales results are only as scalable to the extent the CEO and executives are designed out of the process. Too many companies are dependent on the CEO or VP Sales for selling. How can you make the sales team and results indepdendent of their direct help, except for coaching?
2 - Cold Calling 2.0 — Ramp Sales Fast Without Cold Calls
In fact, if you're making cold calls, you are doing everything wrong.
I also wrote a totally "short and sweet" different email—in plain text, with no HTML -- simply asking for a referral to the right person at the company.
The tipping point of the Cold Calling 2.0 process was born: sending mass emails to high level executives to ask for referrals to the best person in their organization for a first conversation.
Making the field salespeople do cold calls means having your highest-cost (per hour) sales resource perform the lowest-value (per hour) activity.
Spend serious time on identifying and clarifying your Ideal Customer Profile. Define what companies are the most similar to your top 5-10% of your customers, defined as the ones likeliest to purchase for the most revenue, and develop focused target lists based on these tight criteria.
Here are the rules of thumb about where Account Executives should spend their precious time prospecting:
A short, targeted "Top 5" or "Top 10" list of strategic accounts to penetrate.
Their current customer base.
Developing referral or channel partners.
Each week, the first topic discussed on the company-wide sales agenda was the new outbound sales process, reviewing metrics such as:
Email response rates (usually 7-10%)
What e-mails are companies responding to, and why
Who is responding (title, position of authority)
Number of Scoping Calls completed
Who became a qualified opportunity, and why
Refinements to the Ideal Customer Profile (which was revised many, many times)
3 - Executing Cold Calling 2.0
To begin implementing the Cold Calling 2.0 system, you should have:
At least one person 100% dedicated to prospecting (or you intend to have this person). Yes, you can start part-time, but it will be hard to get significant results until you have someone totally committed to it.
You have some kind of sales system that lets your sales team share and manage their sales contacts and accounts. Salesforce.com is still the best system (in my humble though admittedly biased opinion) but what's more important is that you have something beyond spreadsheets, whiteboards and email.
Your prospects use email.
You have a proven product or service that has generated revenue.
The "lifetime value of a customer" is more than $10,000 (the more the better).
One Sales Development Rep typically can support a maximum of 2-5 quota-carrying Account Executives.
A rule of thumb is that for every 400 leads per month that require human attention, a company needs one Market Response Representative.
My advice: Put new reps through some kind of training program that has them working in other parts of your company first, talking to customers, before they go on active sale duty. This will make them much more effective salespeople and actually ramp them faster. Slow down to speed up!
Simple email templates can get you an 8-12%-plus response rate even from high-level prospects.
What signals or signs can you look for, as early in the sales process as possible, to warn you (and the client) that working together is a waste of time?
ask prospects and clients questions such as:
What are your greatest challenges?
What keeps you up at night?
What are your main frustrations?
What are you afraid of?
What's most important to you?
What do you spend money on?
What do you really, really, REALLY want?
Brian Carroll has a nice post here to help you think about building lists: http://blog.startwithalead.com/weblog/2007/03/would_you_buy_t.html
On any given day, the rep should send 50-100 targeted mass emails with a goal of having 5-10 responses per day (assuming about a 10% response rate).
These are guidelines for writing emails to cold prospects to start a conversation. Once you begin communicating, you can shift towards longer emails with more content, but in the beginning:
These emails should look as if they are a single email that came from a salesperson.
They should be text-based, not fancy HTML.
State simply and clearly why you are reaching out.
Make the email easy to read and respond to on a blackberry or smartphone.
Offer credibility (e.g., examples of customers).
Ask just one simple-to-answer question (such as for a referral).
Send the messages either before 9am or after 5pm, and avoid Mondays and Fridays. (Sundays are okay.)
Learn to love "out of office" replies — those emails have the names and contact information for more people to target, such as executive assistants who job it is to help route you to the right person in the company!
The goal of every mass email should be to establish and close a prospect on a next step. That next step should be either one of two things — but NOT both:
Who is the best point of contact for …?" (to get a referral);
Or, When is the best day/time for a quick discussion around…?" (to set up a conversation with the prospect).
For goal #2, setting up a call, the objective is to set up a quick time to see if there's a high level fit between your company and the prospect's company. This call should be focused entirely on their business — not your business. You should lead the conversation and ask open questions that encourage them to talk about their business — not your business. If you're talking more than 30% of the time on prospecting or scoping calls, you need to ask more questions or just keep your mouth shut more.
Remember, "No" doesn't matter until you hear it from the CEO or your ideal decision maker.
A great place both to train new salespeople and generate opportunities is to reach back into old opportunities that have died, and have had no activity for at least six months.
You are allowed to send "unsolicited" emails to businesses. Here are the three core guidelines:
Ask open-ended questions about their business first — how it's organized, for example — before moving on to ask about challenges.
Here are a series of sample questions you can customize and use in a Discovery Call. Realistically, in a first conversation a prospector might just ask 3-4 of these questions. They are roughly in order, starting with more general business questions and leading to more specific qualification questions:
How are your ____ teams/functions organized?
How does your ____ process work today?
What system(s) do these teams use for sales and lead management?
How long has the system been in place?
What are your challenges now? (After each answer, keep asking, "What else?")
Have you been looking at alternatives yet?
Have you tried and failed with other solutions? Why?
Where does ____ fall on your priority list? What is higher?
What would an ideal solution look like to you?
How will your decision-making process work?
Why did you buy the old system?
Who made the decision to purchase it?
What is the probability a project will occur this year [in the next six months]?
Why do it now? (Or why wait until later?)
Scheduling via email is a huge time waster. Always work to schedule your next step while you're on the phone.
If the prospect is interested but isn't ready, or they need to convince more people on the team, then turn your focus to developing your contact into a Champion, who can do the selling for you at the account. It's simpler than you think: focus on what will make that person successful (not what will make you successful), and ask them how you can support them. Give them what they need — including time. Check in with them, but don't bug them. Build trust, be respectful, and be persistent.
Apart from the qualification criteria, in order to be compensated for a new opportunity, the Sales Development Rep must find opportunities which:
Have at least a potential of 20+ users (to ensure the sales reps were looking for large enough opportunities);
Have no fundamental "red flags" or deal-breakers;
The Sales Development Rep clearly generated (no poaching from "inbound" leads or other SDRs).
Fundamentally, when the Sales Development Rep feels it is worth the Account Executive's time, that the Account Executive would want to engage this deal, they pass the opportunity over. There were three guidelines for this:
Does the company fit our ideal client profile?
Are we speaking with someone with influence or power?
Is there a clear interest in a next step, usually in the form of a scoping or discovery call with an Account Executive?
How To Pass An Opportunity Smoothly Best:
Hot-transfer the lead to the salesperson.
Okay: Schedule a time on the calendars of your sales rep and the new lead for a discovery call.
Last option: Make an email introduction, Cc'ing both the sales rep and the new lead, with each other's contact information in the email.
Even if a salesperson takes just five minutes, they can quickly generate a list of objectives for their call:
What Answers do you want to learn in the call?
What Attitudes do you wish the prospect to feel?
What Actions should occur after the call?
Salespeople should use a nonthreatening, research-oriented approach that uses the first half of the call to learn about the prospect's business and needs. The salesperson positions their service and value at the end of the call, after they've uncovered what the prospect actually wants. This means they position the solution to the specific needs of the prospect without lots of distracting, irrelevant information and features the prospect doesn't care about.
Below is a typical "flow" for a qualification call:
Opening ("Did I catch you at a bad time?") and Introduction
Discuss prospect's current business situation (authentic curiosity)
Probe for prospect's needs (and confirm understanding of the needs)
Position solution to meet those specific needs
Handle objections
Next steps
Create a new data field in your sales system on the Accounts/Organizations page or tab called "Account Status," which is a pick list. Add these eight settings.
I experimented quite a bit with different compensation structures at Salesforce.com. The best was the simplest with just two components: A Base salary: $____ A Commission of $____ (targeted to be about 50% of the base, or 1/3 of their total) Depending on where you are in the country, your base, for a quality person, could range from $35,000 - $60,000, and the commission could range from $20,000 - $60,000.
The commission is paid monthly. It is made up of two parts: 50% depends on a goal for the number of qualified opportunities generated this month. 50% is paid based on deals that close, such as a percentage of revenue.
Example Simplified Training Plan For A New SDR
4 - Prospecting and Sales Best Practices
www.PredictableRevenue.com/templates
The Top Six Prospecting Mistakes Reps Make
7 Quick Prospecting Tricks
For A Sales Team I encourage clients to generally set up their dashboards in a three column format, including: Left: Current month activity (amount of stuff going on). Center: current month results/deals. Right: Long-term results (year-to-date).
5 Sales Best Practices
Customers don't care at all whether you close the deal or not. They care about improving their business. It's easy to forget this in the heat of a sales cycle.
Include a SIMPLE "Success Plan" step before you close. This is a plan (almost a vision) that paints a picture of the basic steps beyond deployment to actual client success.
Do you have a sales process? If you don't — get one. ANYTHING is better than no process. A consistent process that isn't working well is better than no process, because you can improve consistent systems—you can't improve random systems.
Every month, go in and clear your pipeline clutter to create space for new, high quality opportunities!
A 3-Hour-and-15-Minute Sales Process:
Step 1: (15 Minutes) First Contact: "Is This A Waste Of Time?"
Step 2: (One Hour) Qualification / Discovery Call: "Is There A Fit?"
Step 3: (Two Hours) Group Working Session: "Should We Work Together?"
If you're not winning at least 50% of the proposals you're giving out, you're too easy.
Instead, next time when the prospect casually asks about pricing or getting a proposal, don't give it to them until you know they want it. Tell them you'd be happy to, and to do that, you'd need to set up a scoping call with them and the key people, to ensure the proposal is accurate and meets their needs.
When you begin a call with "Did I catch you at a bad time?" you're asking permission to chat and putting them at ease; they feel less defensive or violated. It's much better than "Is this a good time?" (No—it's never a good time for busy people).
6 - Lead Generation and "Seeds, Nets & Spears"
After hearing time and time again about these frustrations, I came up with simple distinctions between the three fundamentally different kinds of leads: "Seeds," "Nets" and "Spears."
What Inbound Marketing Methods Work? Each of the activities is ranked in order of its ability to generate leads more easily:
Referrals
Free Tools/Free Trials
Organic Search Engine Optimization
Blogging
Email
Newsletters
Webinars
PPC (pay-per-click marketing)
Affiliate Marketing
Social Media
HubSpot's WebsiteGrader.com is a free SEO and website analysis tool that lets anyone analyze the effectiveness of their site and online marketing.
It's the same way with a blog. It's imperative to be a resource for people and to pro-actively network with your blog by reading other blogs, linking to other blogs and leaving comments on other blogs, if you want people to do the same thing for you. It's not necessarily the law of reciprocity, but it's the law of participation. Set a simple goal, such as meeting one new blogger per week.
At a minimum, all you need your email system to do is share your blog posts via email and to invite people to events or webinars you're holding.
If you're selling to more sophisticated buyers, you'll be better served with focusing on SEO and blogging as your primary activities, and using PPC in experimental ways as you figure out the best online marketing mix.
This is a really important lesson about blogging and marketing: Marketo doesn't "pitch" their own products on the blog. There's no selling. Marketo's blog is popular and successful because they provide a platform to share all kinds of modern marketing best practices and thought leadership. They invite all kinds of other thought leaders to share on their blog (I've been a guest writer). They've become a trusted authority.
21-Day Follow-Up Campaign
Day 1: Evaluation: Over 65 points?
Day 2: Make Phone Call and Send First Email
Day 5: Content Offer Email (invitation to receivemore content)
Day 9: Phone Call
Day 16: Email
Day 21: "Recycle"
7 Seven Fatal Sales Mistakes CEOs and Sales VPs Make
Account Executives should prospect for new clients less than 20% of the time, and only to a Top 10 Strategic Accounts list, with partners, or to current customers.
Executives make all kinds of other mistakes here, including:
Hiring Poorly: Especially in sales leadership (i.e., taking the resume at face value). Remember, salespeople are talented at SELLING,including themselves!
Insufficient Training: Back to training… new hires should spend time in any services area that works with live customers before starting their "real" job, to learn what it's like to be in the customer's shoes. See the graphic below for an example of the "ladder training" approach.
Think 1-3 months for inside Account Executives, and up to 6-18 (yes 18!) months for field or enterprise Account Executives.
Track as many of these as you can in your sales force automation system's dashboards:
New leads created per month (also, from what source).
Conversion rate of leads to opportunities.
Number of, and pipeline dollar value of, qualified opportunities created per month. This is the most important leading indicator of revenue!
Conversion rates of opportunities to closed deals.
Booked revenues in three categories: New Business, Add-On Business, Renewal Business.
8 - Sales Machine Fundamentals
Five of the most important metrics in lead generation and sales development:
New leads created per month.
Number of qualified sales opportunities created per month.
And the total dollar amount of new qualified pipeline generated this month (the best indicator of future revenue).
Percentage conversion rate of leads to qualified opportunities.
Total bookings or revenue (broken out by "New Business," "Add-On Business," or "Renewal Business.")
Win rates. What percentage of new pipeline resulted in won deals?
One of the biggest productivity killers is lumping a mix of different responsibilities (such as raw web lead qualification, cold prospecting, closing, and account management) into one general "sales" role.
The Four Core Sales Functions (Or "Themes")
"Inbound" Lead Qualification
"Outbound" Prospecting/Cold Calling 2.0
"Account Executives" or "Sales"
Account Management/Customer Success
If you aren't specializing your people into these kinds of roles, this is the very first place to begin! You MUST specialize your people to effectively grow results.
A second rule of thumb is the 80/20 rule. When your reps, as a group, are spending more than 20% of their time on a secondary function, break out that function into a new role.
9 - Cultivating Your Talent
As an old Chinese Proverb says: If you want one year of prosperity, grow grain. If you want ten years of prosperity, grow trees. If you want one hundred years of prosperity, grow people.
The best long-term source of salespeople is to grow and develop your own.
Think about how you can create a career path for people, to continually develop and grow them. Each group can act as a feeder team to the next. Here's a startup/ small sales team example:
Market Response Rep (responds to website leads)
Sales Development Rep (develops new opportunities at cold accounts)
Account Executive/Sales Executive (closes deals)
Hire and promote carefully! The best salespeople are more like consultants or business people who can sell than salespeople. In addition, they are the ones who:
Listen much more than they talk.
Are problem-solvers.
Understand their customers' industry/business/needs (key to both building trust with customers as well as understanding how to help solve their problems).
Believe in their product and company.
Demonstrate unquestionable integrity.
Can get things done in their own company (via internal networks).
Are you hiring these kinds of people? Have you written out an "Ideal Employee" profile for your interviewers to help them know who to hire, and how to interview?
Even having a one-hour team training session once a week (Tuesday or Wednesday afternoons) can make a big difference in your team's sales skills.
What Works:
A program with an ongoing, regular format.
Includes exercises/role-playing and useful feedback.
Is designed effectively, to make it worth your reps' time.
Follow through on everything: maintain the schedule, check progress, keep it fresh and don't let things slip.
Here is a specific example of a Salesforce University (SalesforceU) agenda
10 - Leadership and Management
6 Responsibilities Of A Manager - A no-nonsense management model:
Choose people carefully
Set expectations and vision
Remove obstacles
Inspire your people
Work for your people
Improve it next time
Compensation structure is part of it, but just as important are regular complements on good work, in both private and public. Opportunities for career advancement, the opportunity to learn or achieve particular goals, and many other factors can affect motivation (or lack thereof).
"Pit bull" management personalities can unfortunately be glorified in media (as in Glengarry Glen Ross) and in some aggressive organizations. These managers are terrible for long-term individual and company productivity. The good people who have options will just leave, leaving your company with all the people who can't get other jobs.
Are you at risk of losing any star employees? Would you even know if you were at risk, or will you find out when they tell you of a new offer they just accepted?
Buckingham and Coffman's book, First, Break All The Rules: What The World's Greatest Managers Do Differently, outlines 12 key measures for employees:
Do I know what is expected of me at work?
Do I have the materials and equipment I need to do my work right?
At work, do I have the opportunity to do what I do best every day?
In the last seven days, have I received recognition or praise for good work?
Does my supervisor, or someone at work, seem to care about me as a person?
Is there someone at work who encourages my development?
At work, do my opinions seem to count? Does the mission/purpose of my company make me feel like my work is important?
Are my co-workers committed to doing quality work?
Do I have a best friend at work?
In the last six months, have I talked with someone about my progress?
At work, have I had opportunities to learn and grow?
If you get stuck or feel like you want to cheat and pretend only one person can be the owner of that point, remember what Charles de Gaulle said: "The graveyards are full of indispensable men."
As you work through your list of responsibilities and tasks, it's a perfect opportunity to use the 80/20 rule to clear out non-essential tasks. Rather than distributing 100% of the work of the manager, divide the work into two parts: 1) the 20% that is the most important to keep within the team or company, and 2) the 80% that can be eliminated, automated, or outsourced. You can do this with two columns on a whiteboard: "Important 20%" and "Other 80%." In the 80% column, how can you first eliminate as much as possible?
Peer review and transparency are a much more powerful and productive combination than administrative rules and regulations.
Another way to create self-managing teams—rather than having any sort of team leads at all—is to spread responsibilities across the team by creating functional leads: "Goals Setting Lead," "New Hires Lead," "Education Lead," "Coaching System Lead," "Recruiting Lead," etc. You can rotate these roles every few months. Part of the responsibilities of an outgoing Lead is always to train the incoming Lead.
If you have to throw your VP Sales (or yourself) at every big deal, you don't have a scalable sales process, and that one person will always be a bottleneck. In fact, any time a single person is a bottleneck to any process, your growth is capped. What conditions would have to exist for 80% of your current big deals to close without help from the VP Sales or CEO?
I had a convenient advantage that helped me transparently publish everyone's compensation on the team: they all were on the same basic plan structure (same base salary, same bonus and commission rates). No one had special deals even though some people had much more experience than others. Those with more experience or expectations could earn the extra compensation through higher results.
Three Core Adoption Values
Executives must lead by example
Better design = better adoption
Peer pressure and collaboration work